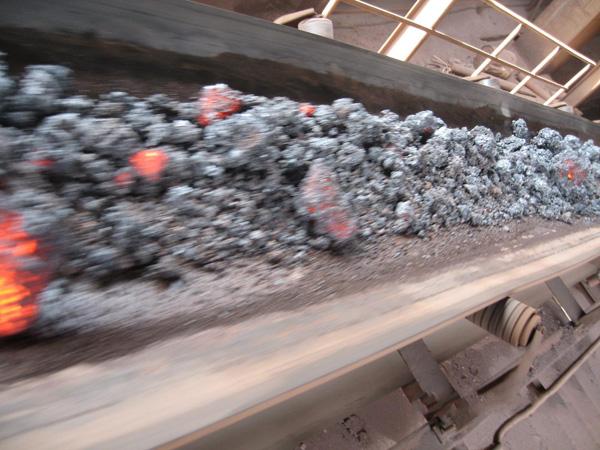 Jonson have developed conveyor belts that are heat resistant as well as wear resistant, resulting in a much longer operational lifespan. Heat 'Resistant Conveyor Belts are manufactured in various grades to suit specific application areas.
Heat Resistant Belts have found wide acceptance in Steel Plants (for handling Sinter and Coke) and Cement Plants (for handling Clinker) in addition to other areas of applications. As a rule, special heat resistant belts are required for transporting materials with a temperature of over 70°C. Materials of this type may consist of sinter, cement, moulding sand, coke etc.
Jonson heat resistant conveyor belts have been developed and refined over many years so that they are more than capable of meeting the demands of even the most extreme conditions, which in some cases can involve temperatures as high as 400°C. High temperatures of conveying material can do serious damage to the conveyor belt carcass itself damaged.
The service life of these belts depend not only on the temperature of the materials to be transported and on the construction of the belt but also on a number of other factors such as the wear properties of the materials, the fall during loading, the size of the material, the length of the belt, the speed of the conveyor and any chemical action which may be involved. Choosing the correct thickness of the cover is also essential because the cover acts as a barrier between the heat source and the carcass.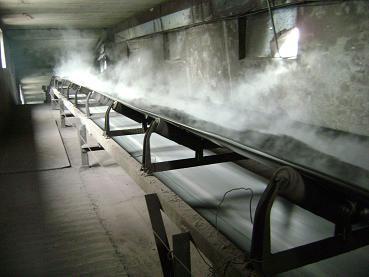 Mutual discussion with Us at pre-ordering stage would always ensure the best designed covers for specific installations main material of heat resistant belt is SBR,EPDM or 350°C compound special rubber and special fabric will be provided for belts above 300°C.
HR(T1) - Our range of HR(T1) Conveyor Belts are heat resistant suitable for continuous Temperature up to 120 degree centigrade for coarse materials and 100 degree Centigrade for fines. These conveyor belts are mainly used in Paper, Foundries, Chemical & Fertilizer plants etc.

SHR (T1) - Our range of SHR (T1) Conveyor Belts is used for handling material up to 160 degree centigrade for fines and 180 degree centigrade for coarse material. These Conveyor belts are mainly used for conveying Sintered ore, Pellet, Coke, and Clinker etc.

SHR(T2) - Our range of SHR(T2) Conveyor Belts are used for controlled high temperature Applications, it is suitable for continuous service up to 180 degree centigrade and a peak temperature of 200 degree centigrade. These conveyor belts are mainly used to handle red hot materials such as Cement, Clinker, Sintered Ore and Phosphate.

UHR(T1) - Our range of UHR(T1) Conveyor Belts are used for controlled high temperature Applications, it is suitable for Transporting hot material (upto 250 C for coarse & 200 C for fine material)

UHR(T2) - Our range of UHR(T2) Conveyor Belts are used for controlled high temperature Applications, it is suitable for Transporting hot material (upto 350 C for coarse & 300 C for fine material)

UHR(T3) - Our range of UHR(T3) Conveyor Belts are used for controlled high temperature Applications, it is suitable for Transporting hot material (up to 450 C for coarse & 400 C for fine material)